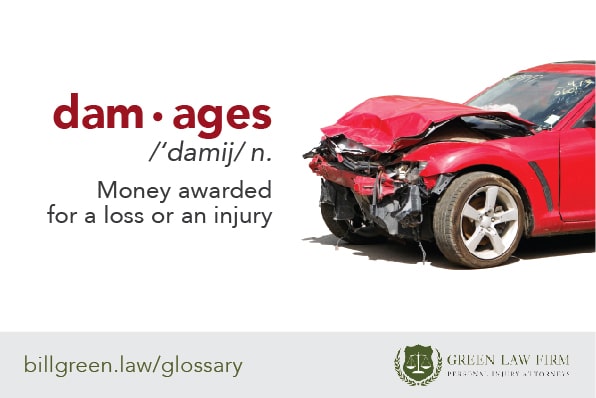 What are damages and why should you care? If you've ever been injured at the hands of someone else because they did something wrong, you probably care a lot about damages. Here's an overview of what you need to know about damages, including some real-world examples.
Damage is an act of harm that is done to someone; it is also the determined amount of money that is award someone who got hurt in an accident of some kind.
How Are Damages Awarded?
In a personal injury case, damages are the amount of money that is awarded to the injured person after their accident. Damages (monetary sum) are designed to help a person get back on their feet and return the life to a normal quality as soon as possible. Damages can be awarded to cover physical expenses and emotional toll.
What are Compensatory Damages?
Compensatory damages are those that are designed to compensate for the impact that an injury has on someone's life. They can be:
Economic damages; a number that is determined by a verifiable number associated with the loss experienced when injured. For example, wages lost when one is unable to work, and the costs associated with medical care. Or,
Non-economic damages; a sum that is non-verifiable in nature. For example, money awarded to someone for their pain and suffering. You can't put an itemized price tag on suffering, so this number is discretionary and based on someone else's opinion.
What are Punitive Damages?
Sometimes someone does something so bad, that the law decides they need to be punished for their mistake. In civil law, people don't get arrested for their negligence. Instead, they can be punished with punitive damages. Punitive damages is an amount of money that is awarded to an injured party specifically to punish the person who caused the accident for their wrongdoing.
Remember that…
We can think about the idea of "damages" in two ways.
First, damages is harm done (emotionally and, or, physically) that alters someone or somethings state and, for a temporary or permanent time, changes its value, function, or usefulness.
Second, damages are what the thing awarded to an injured party after their state has been altered. In personal injury law, damages are traditionally financial in nature; they are a sum of money given to an injured person to compensate for their injury.
In short, when people ask "how much is my claim worth" they are asking how much in damages they could be awarded by the judge or jury that is reviewing their case.
For example: The plaintiff was awarded $50,000 in damages for a car accident, in which they sustained a broken arm and was forced to take a leave of absence from their job; their job requires the use of both arms, so the plaintiff was unable to return to work till approved by a doctor.
Damages Legal Definition Made Simple: The Five W's
WHO cares about damages?
If you've been hurt in an accident, you probably care a lot about damages! Being awarded damages can help you stay afloat during your recovery, and compensate you for your hardship!
WHAT are damages?
Damages are the way you get (monetarily) compensated for an injury caused by someone else's negligence. Damages are designed to help someone get back to "normal life" as fast as possible.
WHERE are damages awarded?
Damages are awarded after the "successful" completion of a personal injury case.
WHEN are damages awarded?
Damages are awarded when a judge or jury metaphorically says "Hey, this injured person deserves to be compensated for the injury they got because someone else messed up. "
WHY are damages awarded?
Damages are awarded to help someone who is injured return to their pre-accident cause of life as soon as possible.
Famous Personal Injury Cases and Their Damages Awarded
1. Liebeck vs McDonald's Restaurants
In 1994, an elderly woman named Stella Lieback bought a cup of coffee at a McDonald's drive-through. She spilled the coffee on her lap, which led to her suffering burns on her upper legs and groin. She sued McDonald's $20,000 as it was learned that, in fact, the chain was serving their coffee hotter than the average. Stella was awarded $200,000 in damages for her injuries, and another $2.7 million in (link to) punitive damages.
2. Rocker Bret Michaels Takes on CBS
In 2009, Poison lead singer Bret Michaels sued CBS (Columbia Broadcasting System) after he suffered an injury during the Tony Awards broadcast. Michaels was hit in the head on stage by a set piece, broke his nose, and suffered a brain hemorrhage a few months later. Michaels claimed he was not properly instructed on how to leave the stage safely, which directly caused his accident. While the courts ruled in his favor, it is unknown exactly how much in damages he was awarded.
3. Gloria Estefan Injured In an Accident On Tour
In 1990, Gloria Estefan was on tour with her band when their bus was rear-ended by a jackknifed tractor-trailer. As a result, Estefan suffered a broken back and was forced to miss a year of touring and concerts. Also, she had to learn to walk all over again! The tractor trailer company was deemed liable for the accident, and Estefan sued filed for medical expenses, lost wages and pain, and suffering. Estefan was awarded $8.95 million dollars. After this, the company that owned the truck that rear-ended them sued the company that operated the truck to try and get back some of the lost money.
4. Anderson, et al. v. Pacific Gas and Electric – aka Erin Brockovich
If you've seen Julia Roberts in the movie Erin Brockovich, then you're familiar with this totally real case! Here, residents of the small town of Hinkley, California went up against a big energy company for polluting their groundwater! Arbitration for the first 40 people brought awarded damages of approximately $120 million dollars. By the time all incidents were tried or settled, over $330 million would be awarded in total.
Did You Know? Shining Spotlight on the Ridiculous and Fascinating in Personal Injury Damages
Beer Goggles
In 1991 a guy sued Anheuser-Busch for false and misleading advertising. He said he suffered "emotional distress" with "mental injury" and "financial loss" because beautiful women didn't appear before him as they did in the brand's advertisements. He may have sought damages… but a judge agreed his claims were just as insane as they sound to you right now. The court dismissed his claim.
Really Bad Dude
Robert Courtney, a pharmacist, is a really bad guy; he diluted the life-saving cancer drugs of over 30 patients! In addition to doing some jail time (30 years for his criminal acts), he was also required to pay over a billion dollars in punitive damages plus another $225 million for compensatory damages!